How to E-Commerce
Sep 1, 2020 by Paul
COVID-19 saw a huge increase in companies moving towards selling their products and services online. In this article, we'll cover the main considerations and pitfalls SMEs often face when creating an e-commerce store.
Which E-Commerce System To Choose?
If you're only going sell a handful of products into the domestic market, then adding simple PayPal buttons to your website could be all you need. PayPal buttons are created in your business PayPal account using an intuitive button builder. The builder generates a piece of HTML code which you drop onto the relevant page of your website to create a 'Buy Now' button. The builder can also accommodate simple shipping charges.
If you need a more complex store, then consider how much control and ownership you want over your website. Cloud based e-commerce systems such as Shopify and Squarespace are relatively easy to setup, look good, and come with a host of various addons to extend your service offerings. However, they are proprietary systems. In other words, you won't own your website, you'll have no control over where it's hosted, and a developer will have limited ability to 'get under the hood' if you want to create bespoke features.
On the other hand, with 'open source' options such as WooCommerce for WordPress, Magento, and concrete5, you will own your website, you can host it anywhere, and you can find developers to create custom coded features and integrations.
Charging for Shipping
Before choosing your e-commerce platform, think carefully about how you will charge for shipping. Can you charge a flat rate, or offer free shipping over a certain amount? If your products are heavy, or bulky, then you may need a more complex system that calculates the shipping charges based on weight and/or volume. If you're going to allow purchases from overseas, then you may need a system that can charge varying shipping (and tax) amounts by region.
Taking Online Payments
If you're selling online, then you'll probably want to give your customers the option to pay by credit card. The simplest option is to use a payment provider, such as PayPal, Stripe or Windcave. This avoids having to store and encrypt credit card data on your website, with all the associated compliance requirements and costs. However, do your homework and research the fees charged by the payment providers, and consider whether you would absorb or pass on these costs.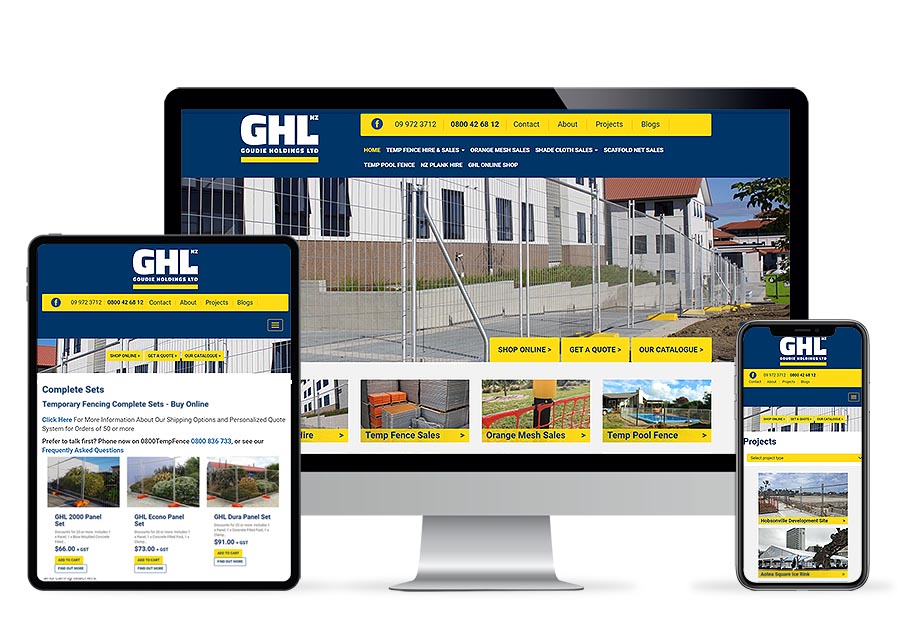 GHL Group is one of the largest suppliers of temporary fencing and ancillary products in New Zealand, and were first to market in their sector with an e-commerce and personalized quote system.
The new GHL Shop calculates the shipping costs, taking into account factors such as freight company discounts & subsidies, fuel price adjustments, minimum charges and pallet type.
As the customer progresses through the shopping cart, the website determines the most appropriate way to ship the goods, i.e. either by courier, by freight company or by GHL, and calculates the correct shipping cost, taking account of both the weight and volume of the goods. Customers then pay by credit card, but the system also gives customers outside of Auckland the option to request a personalised quote for delivery direct to their site.
See www.ghlgroup.co.nz/ghl-shop
The GHL Shop was custom coded by Designer Websites using the concrete5 content management system.
This article, written by Paul Curtis, Managing Director of Designer Digital, originally appeared in the spring 2020 edition of Focus magazine published by the Greater East Tamaki Business Association (GETBA). Roads to Recovery Spring 2020, P. 13
Share

Tags