Increase Your Google Ranking with Responsive Website Design
Jan 30, 2015 by Paul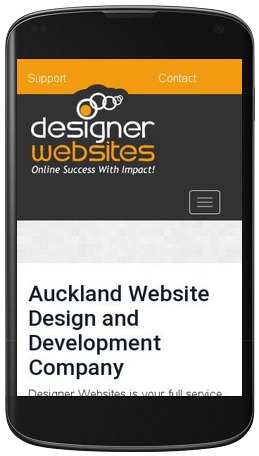 A responsive website is one which expands and contracts to fit the size of the screen. Any images resize, but the text remains the same size so that it can be read easily on a mobile device such as a tablet or a smartphone.  
Switching to a responsive website design not only makes your website more accessible to your visitors, but it could also increase your website's Google ranking.
Google has made it clear that it favours responsive design because it only uses one URL. According to a recent Tech Cocktail article, this makes it easier for the search engine to crawl and index websites: 
"In its numerous suggestions on how to gain high rankings, one of the important ones is the use of responsive website design. Google has clearly indicated that it prefers responsive designs to the mobile templates. The use of a single URL with the responsive design makes it easy for the search engine robots to crawl and index the website. This also helps greatly in reducing the on-page search engine optimisation errors."
When they say 'mobile templates', the article is referring to websites with URL's like m.mydomainname.co.nz. The 'm.' in the URL denote that a mobile template is being used (and often hosted separately to the main website), and is considered by Google to be an additional URL.
On the 26th February 2015, Google came out with an announcement on their Webmaster Blog about a pending and significant change to their algorithms:
"Starting April 21, we will be expanding our use of mobile-friendliness as a ranking signal. This change will affect mobile searches in all languages worldwide and will have a significant impact in our search results. Consequently, users will find it easier to get relevant, high quality search results that are optimized for their devices."
This means that from the 21st April 2015, when you use Google to search the web on a mobile device, websites which are deemed 'mobile friendly' will be given a preferential ranking in the search results.
You can test whether your website is mobile friendly by using Google's free tool.
If your website hasn't been built as a responsive site, then it would have to be rebuilt in a responsive container to make it responsive. However, don't panic yet! Depending on the Content Management System your website is built in, it may be possible to install a mobile friendly theme that doesn't require the 'm.' - which is the next best thing. We've applied this successfully to a number of our client's websites.
Smartphones are expected to match the world's population by 2020, but long before then they'll shift internet usage from desktop PCs to hand-held smart devices. So if you're thinking of having a new website built anyway, then make it a responsive website. If you have a non-responsive site and you're not ready for a re-build yet, then talk to your web developer (or us!) about installing a mobile friendly theme.
To talk more about responsive web design, or anything else, please contact us. 
Article updated: 24th March 2015
Share

Tags