Schools Website Portfolio
Chapel Downs Primary School
Chapel Downs Primary School is a multi-cultural primary school in East Auckland.
The brief was to present a more professional image of the school, with a 'Pasifika' design that reflects the school's strong Pacific Island and Maori ethnic composition whilst also appealing to the a wider audience as the school zone boundary expanded to include Ormiston. The website had to promote the school's standards as a place of traditional learning and discipline, under the strapline of "Achieving Together" and incorporate their signage characters and school mottos.
In our experience, what really makes a great schools website is a great image gallery. With Chapel Downs, they really took this to heart with their fabulous gallery of school events and the website includes typical school website design features such as staff contact layout, calender of events, term dates block and uniform layout.
We love working on schools websites because they are always fun creative projects. Chapel Downs was no exception, in fact we'd go as far to say this was our best schools website yet!
Contact Us today about your school's website and together we'll create a website that both parents and teachers will love!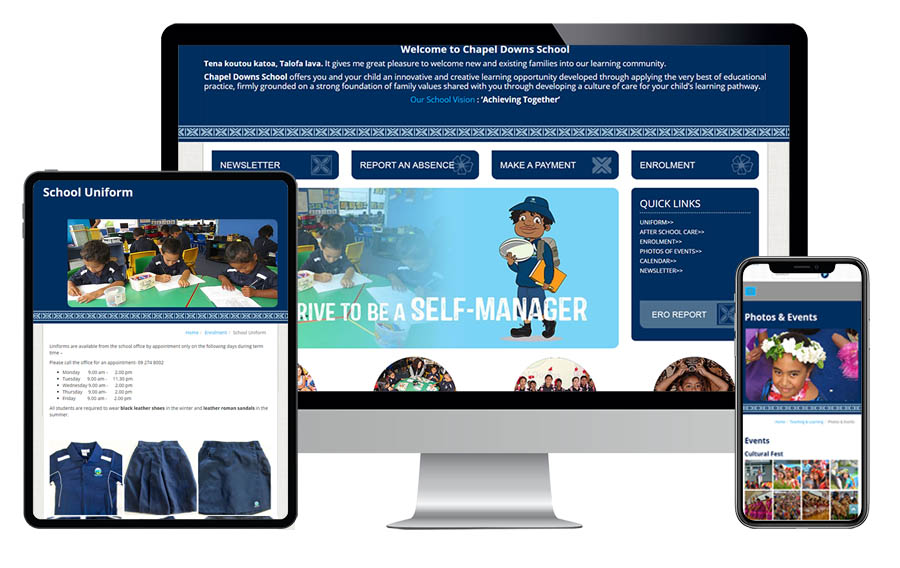 | | |
| --- | --- |
| What We Did | |
Custom uniform block
Custom term dates block
Editable buttons with selectable pasifika graphics
Alert reminder block
Incorporate school cartoon characters into design