How Apple's iOS 14 release will affect your Facebook ads...and what you need to do
May 24, 2021 by Paul

Apple's release of iOS 14 allows iOS users to opt out of being tracked. Users who decide to opt out of being tracked will be harder to reach with personalised ads.

This will affect your business if you're using Facebook's Pixel to run ad campaigns on Facebook which direct visitors to your website to perform an action (often called a 'conversion'). Conversions are typically things like buying a product from your site, or completing your website's enquiry form. Facebook is reacting to the iOS 14 release, and its new requirements, and you may have seen messages like this in your Facebook Business Manager account:

If you ignore these messages and fail to act, then your Facebook ads could stop showing. Essentially, you will need to follow a four step process in your Facebook Business Manager account to verify your company's domain name and prioritise your conversion actions.
The steps are as follows: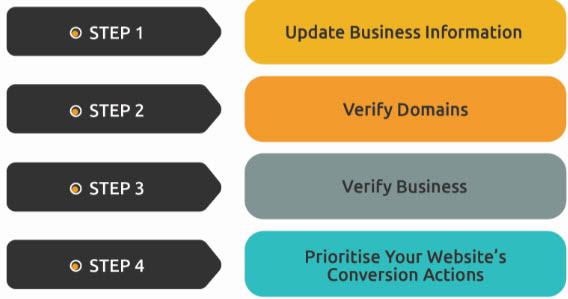 Steps two and four can be tricky.
Verifying your domain name will require you to either upload some code to your website, or add a record in your domain's DNS configuration.
Prioritising your website's conversion actions will require you to think about the relative importance of the actions you want visitors to take when they visit your website.
For an ecommerce website this might be (from lowest priority to highest):
view content
add to cart
initiate checkout
add payment info
purchase
We've helped a number of our clients prepare for the release of iOS 14, please contact us if you require our assistance.
Share

Tags