Company Websites Portfolio
Chester Grey Chartered Accountants
Chester Grey are a large firm of Chartered Accountants with offices in Manukau and Auckland CBD. They wanted a new non-corporate style website design which promotes their various business services and their holistic approach to business development and strategic planning, which they call "The sum of all our parts".
We used the 'little accountant' and chalkboard concept in the main image banner with hand drawn illustrations we commissioned from the amazing Carla Shale to create a professional looking website with plenty of personality.
The website has lots of integrated functionality to help Chester Grey communicate with their clients and promote their business and seminars;-
The 'Key Dates' area is integrated with Google Calendar, so all they have to do is update Google Calendar on a local computer in the office, and 'bingo' it updates the website automagically.
The right hand column has integrations to show their latest Twitter tweet and latest blog post and a newsletter signup form connected to their Mailchimp database to make managing email campaigns super easy.
The 'Meet the Team' page has a mobile friendly 'hover over' effect to show each person's bio - considering a mobile phone doesn't actually have a hover functionality that's an achievement! - and we also included links to their email and LinkedIn accounts.
The "Articles" section has 'guest blogger' capability which allows Chester Grey to feature posts from external experts in various fields. The articles also allow moderated comments to be posted, which all helps Chester Grey to communicate with clients and potential clients.
And if that's not enough, we've integrated the website with EventBrite to help them manage their their events and seminars. Oh yeah and the site's also fully responsive so it's compatible with all mobile devices. This was an awesome project!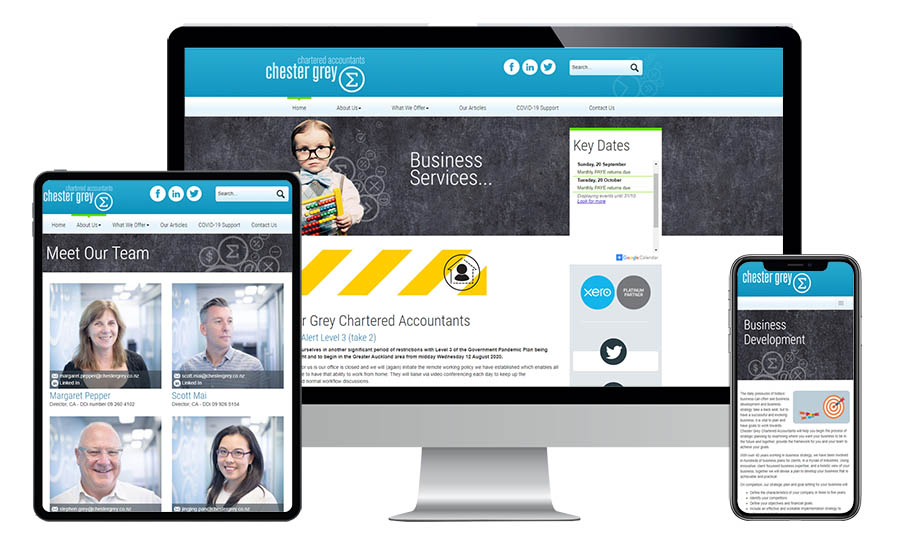 | | |
| --- | --- |
| What We Did | |
Customised Hand Drawn Illustrations
Google Calendar Integration
Right Side Bar Integrated with Twitter
Blog Page and Mailchimp