Accountant Websites Portfolio
Accru
dw developed a website design for Accru that inverted the parent company design to link the two companies by branding, whilst simultaneously separating them by subtle differentiation of design elements to indicate the individual yet linked relationship of the NZ branch of the company.
Nature is not the first thing you associate with 'accounting' and Accru like to think outside the box in their branding and accounting services and solutions. We designed a look that reflected specifically Kiwi nature imagery and the homepage service box section is branded with laterally associated symbolic images of the accounting services type, also drawn from nature where possible.
The website contained:- blog functionality, a team list page, services navigation distilled into user-friendly structure, slide-out mobile menu design including social media and external accounting service links.
We like to brand accountant websites creatively.
Check out our accounting website services for your website upgrade.
Subpage Banner designs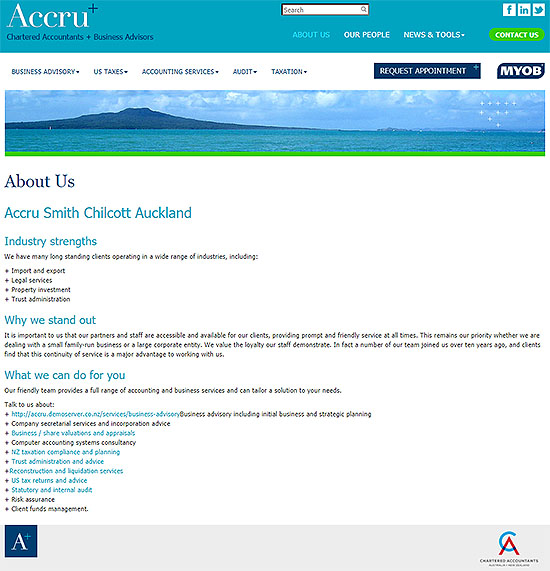 | | |
| --- | --- |
| What We Did | |
blog functionality team list template complex services navigation architecture designed to user-friendly structure slide-out mobile menu design including social media and external accounting service links